Alpen Windows in Waterford, MI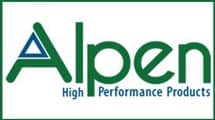 Alpen High Performance Products are available through your Waterford, MI replacement windows company, Direct Exteriors, at some of the lowest prices on the market. Alpen is known for producing high performance glass and fiberglass windows that far exceed the performance ratings of the competition.
Alpen windows are available in many different styles, too, so it's easy to get high performance, energy efficient fiberglass windows that fit your needs. Alpen's selection of fiberglass windows in Waterford, MI include:
Awnings
Casement Windows
Double Hung Windows
Picture Windows
Horizontal Slider Windows
Single Hung Windows
Bay and Bow Windows
Specialty Shapes
Available in the 525 Series, 725 Series, and 925 Series, Alpen windows are a great choice for any Waterford, MI homeowner looking for quality replacement windows. Offering incredible corrosion resistance, high condensation resistance, and superior strength, Alpen Window's fiberglass windows are the optimum choice when it comes to Waterford, MI replacement windows.
Another factor to keep in mind when selection replacement windows in Waterford, MI is the energy efficiency rating. Where does Alpen rank? Well, the 925 Series of Alpen windows is three times more energy efficient than Energy Star standards. That should tell you something.
Direct Exteriors is your source for Alpen windows in Waterford, MI. If you are looking for Alpen windows, contact our Waterford, MI fiberglass windows specialists today to learn more about the Alpen windows we have available. And remember – if you are in love with a particular product you just have to have, we can get it for you. That's part of the benefit of dealing direct. Call Direct Exteriors today for all your window replacement needs in Waterford, MI, and make this a worthwhile home improvement investment you'll be happy with for years to come.